Tsitsipas Rules in London
Stefanos Tsitsipas edged Dominic Thiem 6-7(6), 6-2, 7-6(4) in a thriller to win the year-end Nitto ATP Finals on Sunday. This is the biggest title of Tsitsipas' young career.
The 21-year old Greek played great all week.  He won his first two group stage matches against Daniil Medvedev and Alexander Zverev.  He lost a tight three-set match to Rafael Nadal losing the deciding set 7-5.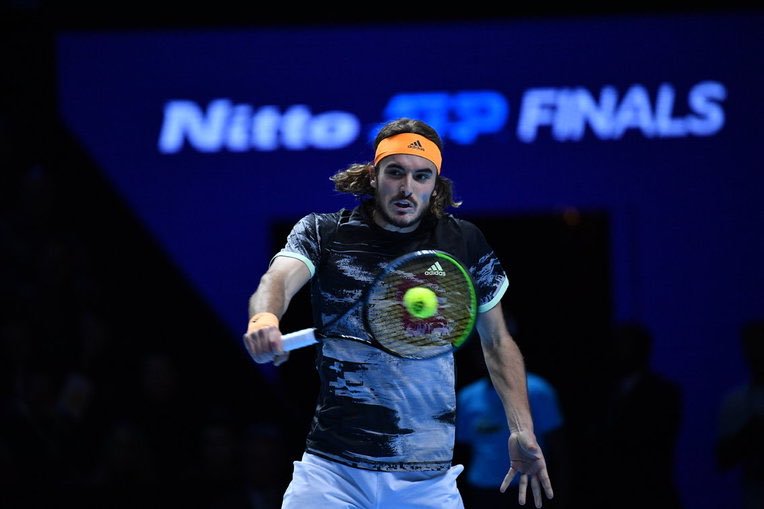 Tsitsipas' backhand was magnificent this week.  His block return and the drive backhand was solid when under pressure.  He was also mentally strong, which helped him win the final against Theim.  He also saved almost a dozen break points against Roger Federer.
Thiem's Disappointing Final
Thiem will be disappointed at the way he lost the final.  He was the best player of the tournament before the final. His win against 6-7(5), 6-3, 7-6(3)Novak Djokovic was one of the best matches of the year. He also easily beat Federer 
After he won the first set against Tsitsipas, his game fell apart. He had been suffering from cold earlier in the week. I am not sure if that's the reason but Tsitsipas stepped up his game, and that made all the difference.
Nadal's Magnificent Year
Nadal has never won the year-end ATP Finals.  He also came in to the tournament with an abdominal injury.  Though he showed no indication of  the injury during his matches, the fast surface and lack of practice meant that he wasn't the usual Nadal.
With Federer's win over Novak Djokovic, Nadal clinched the yeard-end No.1 ranking for the fifth time.  For player with a physical game, he has  beat time and is looking great at 33.  Most people would not have expected him to play this long and this well. His 2019 results included 2 grand slams wins at the French Open and the US Open, final at the Australian Open and semis at Wimbledon.
Roger Federer – Not Too Good, Not Too Bad
Roger Federer looked out of sorts in his first match against Dominc Theim. But he got a routine win against Matteo Berrettini and delivered a majestic performance against Djokovic to make the semis.  He came up flat against Tsitsipas.  Though Federer had many chances, he could not convert his breakpoints, and ended up losing in straight sets.
At 38, Federer is feeling the effects of his age.  It's becoming hard to put up good performance everyday when you are almost 40.  Given all that, he had a good year, almost winning Wimbledon.  In the right circumstances, Federer will continue to be a threat any tournament, but he is slowly losing his magic.
Sascha Zverev –  Okayest Player of The Year
Alexander Zverev had a disappointing year by most standards.  But those standards are very high because he is Zverev. He qualified for the ATP Final tournament, and reached the semis.  There was a glimpse the talent that he has, but the field was too strong this year. The latter half of the year was better for Zverev than the first half. Hopefully, he can come back strong next year.
Daniil Medvedev – Biggest Disappointment
I would have never expected Medvedev to lose all three of his group-stage matches. He could not find that form that took him to the US Open final. He appeared frustrated, and confused on the court.
Matteo Berrettini – Thank You for Coming To London
Berrettini got a win over Them in a "dead match".  Thiem had already qualified for the semifinals and appeared to be suffering from cold. But it was a great year for Berrettini, and the results this year set him to be a contender for majors next year.
The Tournament – Taking Short Cuts To Save Money?
Men's tennis, especially the year-end tournament sells itself to advertisers and fans.  But it appeared that the tournament wanted to skimp on certain things to save money.  The photo shoot of the Top-8 players looked amateurish, and not keeping in line with the photo shoot of previous years.   
ATP Finals will move to Turin in 2021. And it seemed the London organizers lost interest in promoting the event.
Great Matches And Great Atmosphere
O2 arena provided great atmosphere, and we had great matches. The field appeared balanced compared to previous years.  There were great story lines.  No. 1 ranking was on the line until the last few days.  There were upsets and fans got a glimpse of future stars. It was a great week of tennis.
(Visited 10 times, 1 visits today)