Every top tennis player went to a tennis academy at some point. That's true whether you are talking about professional tennis, college tennis, or even competitive junior tennis.
Tennis academies train students not just on their tennis game, but also on thier fitness and their mental strength. They give you access to top coaches and staff. You will also meet current and future great players at these academies. Many top stars still return to their academies to fine-tune their game between tournaments and during the off season.
Best Tennis Academies In The USA
Saddlebrook Tennis Academy, Tampa, Florida
Saddlebrook has 45 tennis courts that include all 4 major surfaces. A lot of well-known players such as Jim Courier, Pete Sampras, Jennifer Capriati, Martina Hingis, James Blake, Mardy Fish, Andy Roddick, Jack Sock, Bob & Mike Bryan, Alexander Zverev, Mischa Zverev, Caroline Wozniacki, Belinda Bencic, and  John Isner have trained at Saddlebrook.  Many current players still return to tune up their game.
The tennis program at Saddlebrook was originally founded by former Australian Davis Cup captain, Harry Hopman, who ran the program at Largo, Florida. Saddlebrook acquired the program in 1986 after Hopman's passing.
Saddlebrook offers boarding and non-boarding options for students. The academy also hosts summer camps. It also has excellent fitness facilities, pools, and spa.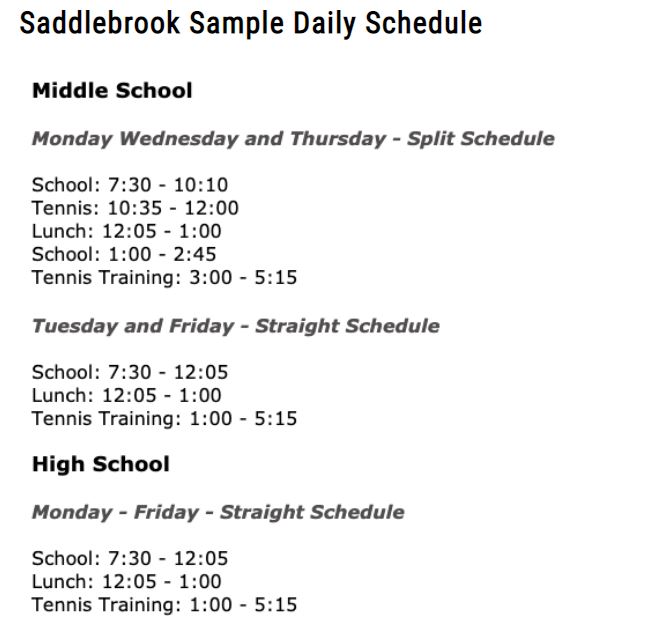 The tennis program costs about $65,000 for boarding students and $50,000 for non-boarding students.
IMG Tennis Academy – Bradenton, Florida
IMG is one of the best tennis academies in the world. Since it was founded more than 40 years ago, the academy has produced many top male and female tennis players.
The academy has 55 tennis courts (34 hard, 17 clay, and 4 indoor) and has tournaments on campus to promote competition.
IMG bought the Nick Bollettieri Tennis Academy, founded by Nick Bollettieri  in 1987. IMG alumni include Andre Agassi, Monica Seles, Jim Courier, Kei Nishikori, Anna Kournikova, Serena Williams, and Maria Sharapova.
Tuition for the program is between $65,900 to $85,900 per year based on the student's age, grade, and boarding status.
Evert Tennis Academy – Boca Raton, Florida
Evert Tennis Academy was founded by former world number one and 18-time singles grand slam champion Chris Evert and her brother John Evert in 1996.
The main campus has 23 tennis courts (12 hard and 11 clay). Notable alumni from the program include Lauren Davis, Sebastien Grosjean, Madison Keys, Jesse Levine, Andy Roddick, and Ajla Tomljanović.
Evert Academy offers boarding and non-boarding option for students. Cost ranges from $29,500 to $45,500. As you probably noticed, the cost is much cheaper than most other tennis programs.
Evert Academy claims that 100% of its graduates who have pursued a college scholarship have received at least some financial assistance.
Saviano Tennis Academy – Plantation, Florida
Saviano Tennis Academy was founded by well-known tennis coach Nick Saviano. The academy counts Sloane Stephens, Amanda Anisimova, and Eugenie Bouchard as its alumni.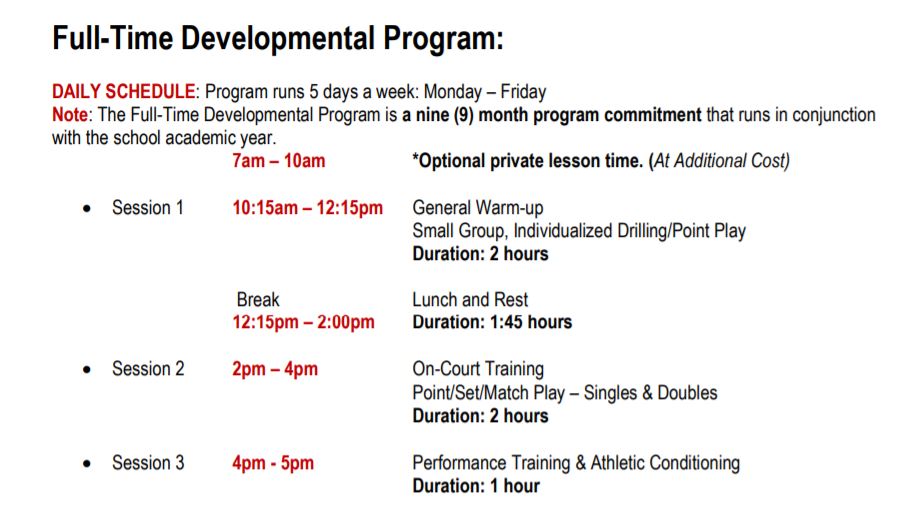 The academy has 28 hard courts and offers full-time, part-time, and holiday programs for students. The cost for the full-time program is $30,550.
John McEnroe Tennis Academy, Manhattan, New York
John McEnroe Tennis Academy is located in Manhattan, New York. The academy was founded by legendary tennis player, John McEnroe, in 2010. Since it is new, it doesn't have big-name alumni like the other academies. Noah Rubin, 2014 junior Wimbledon champion, is an alumnus of the program.
The academy has 20 courts (10 hard courts, 10 clay courts). The advanced tennis program has placed a number of students at top US Collegiate programs including Amherst, Columbia, Harvard, Princeton, University of North Carolina, Wake Forest, and Yale.
Unlike other tennis programs, the John McEnroe Tennis Academy offers multiple training options. The cost of a 34-week training program (2 hours a day, 5 days a week) is around $30,000.
Van Der Meer Tennis Academy – Hilton Head Island, South Carolina
Van Der Meer Tennis Academy, located in Hilton Head Island, South Carolina, was founded in 1973. Van Der Meer also founded the Professional Tennis Registry, an organization that certifies and trains tennis coaches. He passed away in 2019.
The academy has 37 tennis courts, including 7 indoor courts. Academy alumni include  John Isner, Amanda Coetzer, Margaret Court, Billie Jean King and Alison Riske.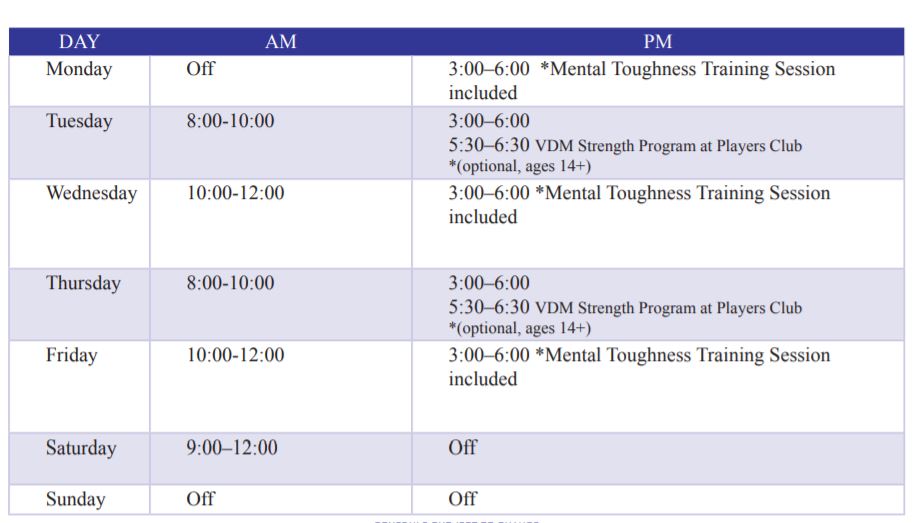 Van Der Meer Tennis Academy costs $23,745 per year for boarding students and $39,000 for boarding students.
The John Newcombe Tennis Ranch, New Braunfels, Texas
The John Newcombe Tennis Ranch is located in the Texas Hill Country. Founded in 1968, the academy has 27 hard courts and four hydro clay courts.
Lleyton Hewitt, Li Na and Ryan Harrsion trained at The John Newcombe Tennis Ranch. The academy has successfully placed students in college tennis programs for over 15 years.
Because of its proximity to San Antonio and Austin, the academy offers commuter programs to students who live in these two cities.
Weill Tennis Academy – Ojai, Southern California
Weill Tennis Academy is located in sunny Southern California, an idea place for tennis due to its sunny weather for most of the year. The academy has 22 courts and an excellent gym.
The academy has a great track record of sending its students to college tennis programs. Max Cressy is one of its recent alumni, who went to UCLA and later turned pro.
Sample Daily Schedule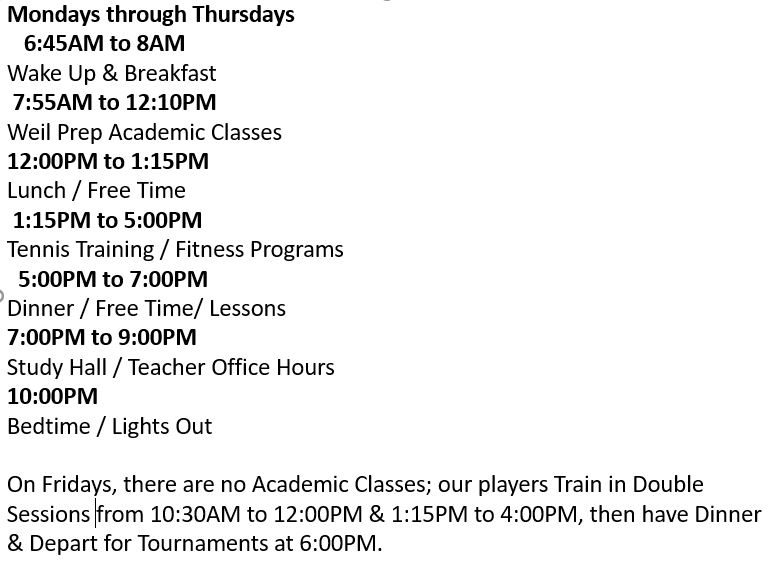 The cost for full-time boarding students is $54,500 per year. 
Austin Tennis Academy, Austin, Texas
Austin Tennis Academy is located in the Texas Hill Country. It has 12 hard courts and 2 red clay courts in its premises. The academy also has an excellent 3200 sq ft fiteness center.
The academy offers two programs – a junior academy and an adult program. It also offers spring break, summer and winter camps. 
Austin Tennis Academy does not offer boarding for its students. Cost is approximately $15,000 per year. 
Gorin Tennis Academy –  California & Washington
Gorin Tennis Academy has multiple locations in California and Washington. Founded by Vitaly Gorin, the academy has 7 courts and has produced a number of professional tennis players including Dmitry Tursunov, Igor Kunitsyn, Nikoloz Basilashvili, and Yaroslava Shvedova 
85% of the academy's students go to college with scholarships or turn professional. 
Gorin Academy Daily Sample Schedule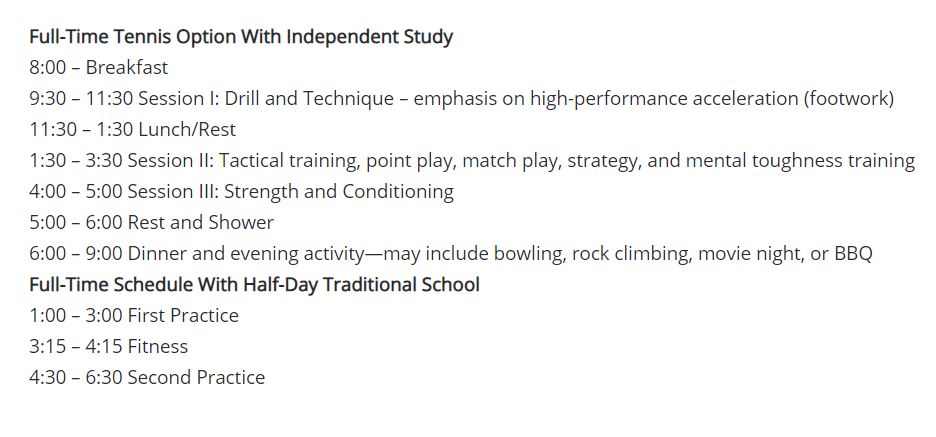 Cost of the  full time boarding program is $33,175 per year. Full-time non-boarding costs $21,300 per year.
Comparison Of The Best Tennis Academies In The United States
(Visited 216 times, 1 visits today)