There are many ways to become villains on the tennis court. Constantly arguing with the umpire or the crowd instantly makes you the villain. But Sorribes Tormo and partner Marie Bouzkova found a new way – they asked for their opponents to be disqualified when one of them accidentally hit a ballgirl during their doubles match at the 2023 French Open.
Miyu Kato accidentally hit a ballgirl in the face after the ball ended. Initially, Kato and her partner Aldila Sutjiadi were only issued a warning. But Tormo and Bouzkova argued for the default of their opponents since the ball hit the ballgirl. The two were also seen laughing after Kato and Sutjiadi were disqualified.
Not surprisingly, social media has not been kind to Tormo and Bouzkova for their behavior. Even Alize Cornet tweeted
Insane decision. I really feel sorry for you…but a lot of players (except Marie and Sara obviously) are supporting you
For her part, Kato was apologetic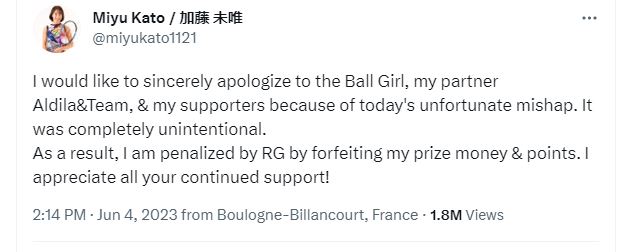 Kato and Sutjiadi also lost their prize money and points for their disqualification. The pair has received enormous support from fans in their subsequent matches.
(Visited 86 times, 1 visits today)