Babolat Pure Strike has been a big success with players at all levels. The Pure Strike racquets have always been known for their power and spin. Babolat has now released its latest generation Pure Strike racquets that provide better control and stability. The new generation racquets also have a vibrant design and a contemporary look.
Babolat Pure Strike racquets use two cutting-edge technologies – Control Frame Technology for maximum control and stability, and C2 Pure Feel for comfort and feel.
The third-generation lineup includes Pure Strike 18×20, Pure Strike 16×19, Pure Strike 100, Pure Strike Team, and Pure Strike Tour(a new addition to the family).
The racquet weighs 11.4 oz and is substantially lighter compared to the Tour. It's the racquet that Dominic Thiem uses. The dense 18×20 string pattern offers exceptional directional control and feel. The racquet will allow aggressive baseline players to take good amount of power and yet maintain control of the shots.  The racquet offers more mobility than the Tour racquet.
The 16×19 pattern allows players to hit more powerful shorts due to wider string spacing.
Choosing Between Pure Strike 18×20 and Pure Strike 16×19
If you frequently break strings, go with 18×20, otherwise, 16×19 is a good option as it provides plenty of power and a good feel. All other specs are nearly identical.
Pure Strike 100
This oversized 100 sq. in. racquet weighs 11 oz and is not as stable as the heavier versions. This racquet is ideal for players who need a larger sweet spot and more forgiveness.
This 10.7 oz racquet is ideal for players transitioning from another racquet. The racquet's lightweight allows players to hit through the air quickly. It is ideal for players who need more racquet head speed and power.
A new entrant to the Pure Strike family, the racquet is on the heavier side at 11.9 oz. It's an ideal racquet for players who like to create their own pace. The racquet's 16×19 pattern allows players to hit through their shots with angles and spin. 98 sq. in head size allows players to be nimble on the court.
Bags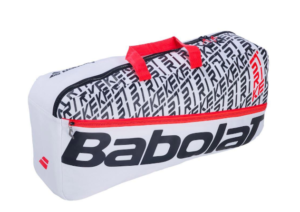 Babolat has also revamped its Pure Strike bag lineup.  The redesigned 6-pack bag is now shaped like a duffel and the 12-racquet bag has a transparent compartment.