Roger Federer's Sponsors and Business Interests
Roger Federer is widely considered to be the best tennis player to play the game.  Though he retired from tennis in 2022,  the Roger Federer brand is stronger than ever. Big name sponsors still want to be associated with one of the most well know athletes in the world. 
He is also one of the most marketable athletes in the world. He speaks 4 languages and has millions of fans all over the world. With 20 grand slams to his name, he transcends tennis.  
Federer has consistently been the highest-paid tennis player in the world. Federer's net worth is more than $1 billion.  He is tennis' first billionaire.
Federer is Money
Brands know that Federer is money.  So does the Swiss Mint. Swiss Mint honored Federer, Switzerland's greatest export, with a commemorative 20 Swiss franc ($20) silver coin.  It is the first time that distinction has been given to a living person.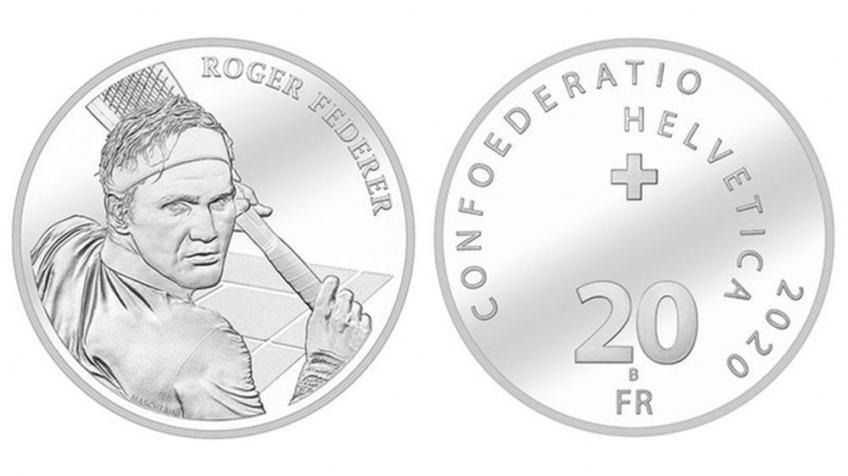 The coin features Federer in his trademark headband preparing to strike a backhand. When you toss the Federer silver coin, you can ask, "Feds or Tails?".
GQ's Most Stylish Man of the Decade
Fans voted Roger Federer GQ's most stylish man of the decade. His influence transcends the sport and makes him more marketable than any other tennis player.
Uniqlo
Uniqlo is a Japanese casual wear designer, manufacturer, and retailer.  Federer switched from Nike, which was paying him $10M a year to Uniqlo.  Federer's deal with Uniqlo is worth $30M and runs through 2027.  Interestingly, Uniqlo does not make shoes.
Rolex
Rolex is a Swiss luxury watch manufacturer based in Geneva. Federer has been with Rolex since 2006.  His latest contract with Rolex brings him $8M annually.  Fans will notice Federer wearing his Rolex when holding his trophies.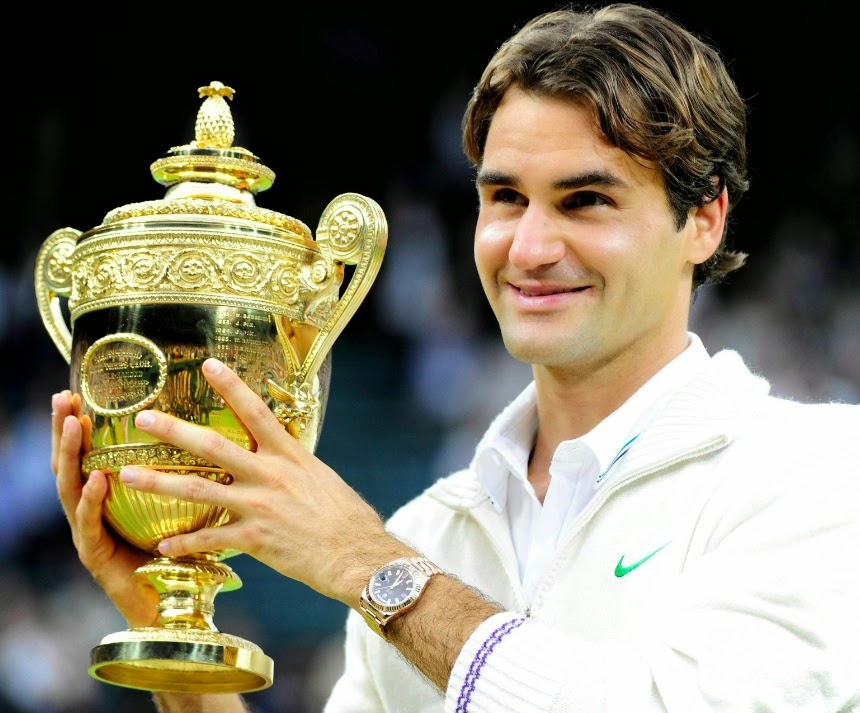 Wilson
The Wilson Sporting Goods Company is an American sports equipment manufacturer based in Chicago, Illinois.  Federer has been using Wilson racquets throughout his career.  He has a life-time deal with Wilson.  He will be an ambassador for the brand after his playing days are over. Wilson pays him an estimated $3.5M a year.
Netjets
Netjets is an American company that sells part ownership or shares of private business jets.  Federer frequently uses Netjets to travel to tournaments with his family and entourage. When you have as many trophies as Federer does, you need your own plane to haul them.  See this ad from Netjets after Federer won his 14th grand slam. Federer's Netjets deal is worth $4M a year.
Mercedes – Benz
German luxury carmaker Mercedes-Benz has been sponsoring Federer for more than a decade. In 2018,  the company extended its partnership with Federer for $5M a year. The deal also gives Federer a new Benz car every 6 months.
Lindt
Swiss chocolate maker Lindt has a $7M a year deal with Federer  Here's a funny ad from Lindt featuring Federer.
Credit Suisse
The Swiss bank has been supporting Federer for almost a decade.  Federer's deal with Credit Suisse earns his $2.5M annually. In addition, Credit Suisse supports the Roger Federer Foundation (RFF) with a contribution of one million US dollars every year.
Barilla
Federer's deal with Barilla, the largest pasta company in the world, is worth $40M over 5 years or $8M annually.  Like many players, Federer's daily diet includes pasta and this was a natural fit for him.  In the past, Barilla had sponsored tennis players such as Steffi Graf and Stefan Edberg.
Moet and Chandon
Moët and Chandon is one of the world's largest champagne producers and a prominent champagne house.  The French brand has sponsored Federer since 2012.  The deal pays him $8M per year.
Jura
Jura is a Swiss developer and distributor of home appliances. Federer's deal with Jura is worth $5M a year.
Sunrise
Sunrise is Switzerland's largest private telecommunications operator.  Federer has been a brand ambassador for Sunrise since 2014.  The deal earns Federer $4M a year.
Oliver People
In 2023, Federer signed an endorsement deal with the eyewear brand Oliver People. He will co-design a line of eyewear products with the company.
Other Business Interests of Roger Federer
On
In 2019, Federer invested $50 million in the Swiss shoe brand, On. The company is known for its high-quality running shoes. He currently wears The Roger Pro shoe on the court. The shoe was specifically designed for him and is not available to the public.
TEAM8
Federer formed Team8 Sports & Entertainment with Tony Godsick in 2013.  The company is based in Pepper Pike, OH, USA.  The agency earned $13.7M in commission in 2018.
In addition to Federer, it represents US Open Champion Juan Martin Del Potro, Sascha Zverev and Coco Gauff. Previously, it represented Grigor Dimitrov.
Laver Cup
The Laver Cup is an international indoor hard court men's tennis tournament between two teams: Team Europe and Team World.  TEAM8, and former Brazilian Davis Cup player Jorge Paulo Lemann (who is a successful businessman), and Tennis Australia partnered to create the Laver Cup.
Team World consists of players from non-European countries. The competition is held annually and intended to be the Ryder Cup of the tennis world.
Roger Federer Foundation
The Roger Federer Foundation supports educational projects located in the region of southern Africa and Switzerland. The programs on the African continent focus on the improvement of the quality of early learning and basic education.  Programs in Switzerland focus on the promotion of extra-curricular activities for children affected by poverty. The foundation aims to support one million children in receiving access to education of convincing quality.
(Visited 101 times, 2 visits today)