Brands That Sponsor Rafael Nadal
Rafael Nadal won his first ATP title at 15 and has been a dominant player on clay.  He has been called King of Clay. by many including his peers.  He has also had considerable success on other surfaces.
For more than a decade, he has been one of the highest-paid tennis professionals in the world. But critics would argue that Nadal deserves to make more in endorsements than he does.  Nadal trails Roger Federer, Novak Djokovic and Kei Nishikori in endorsement earnings. 
Nicknamed "Raging Bull" for his for his hustling personality on the clay court, Rafa has been one of the top-earning tennis players for more than a decade.  He splurges his earnings on yachts, fancy vacation and more. 
Nadal is represented by agent Carlos Costa.
Kia Motors
Kia Motors has partnered with Nadal since 2004 and is the global ambassador for the South Korean carmaker. In 2015, the company inked a contract with Nadal that runs till 2020. When Kia built its new Kia Stinger, the company delivered one to Nadal at the Rafael Nadal Tennis Academy, a tennis training academy owned by the Spaniard.
Kia Motors also actively collaborates with the Rafa Nadal Foundation on many projects.
Nike
Nike has sponsored Nadal since he was 13. Though there have been rumors that Nadal will switch to another clothing and shoe sponsor, and make a big payday like Roger Federer and Novak Djokovic, Nadal has remained with Nike.  Nadal reportedly pays Nadal around ~10M a year.
Richard Mille
Richard Mille is a Swiss luxury watchmaker.  Richard Mille has sponsored Nadal since 2010. Recently, Nadal has been seen wearing the limited edition RM27-03, which is valued at $725,000.  Given how expensive these watches are, some of Nadal's watches have been stolen.
Banco Santander
Nadal signed a long term partnership agreement with Banco Santander in late 2019. As a global ambassador for the brand, Nadal will represent the bank in various campaigns.
Babolat 
Racquet maker Babolat has sponsored Nadal since his junior playing days.  Lately, Nadal has been using the Babolat Pure Aero racquet.
Telefonica
Telefonica is a Spanish telecommunications company that operates around the world under brand names such as Movistar, O2, and Vivo. Nadal has been the global ambassador for the company since 2014.
Tommy Hilfiger
Nadal has been the ambassador for Tommy Hilfiger's underwear and tailored clothing.  He has appeared in several ads for the company, including some racy ones.
Sabadell
Banco Sabadell is one of the largest Spanish groups.  Nadal's deal with Sabadell will extend beyond Nadal playing days. Sabadell has been associated with other sports stars such as Leo Messi and, Gemma Mengual, an Olympic medallist in synchronized swimming.
Mapfre
Mapfre, the Spanish insurance company partnered with Nadal and the Spanish tennis federation on the Rafa Nadal Tour by Mapfre.  It is a competition for the up and coming youth players.
Mueller Sports Medicine
Nadal has been with Mueller Sports Medicine since 2014.  Nadal can be seen wearing Mueller's Pro Strips and abrasion control products on his fingers in the left hand.  Nadal has quoted as saying that putting on these strips is a part of his pre-match ritual. It protects his fingers from blisters during the match.
Nadal opened the Rafa Nadal Academy by Movistar in Mallorca, Spain. The 25,000 sq. ft. facility cost $25 million to build. Some of Nadal's sponsors such as Kia and Nike are also partners in the venture. The tennis academy reportedly costs $62,000 per year to attend.
The Academy has 27 tennis courts (indoor and outdoor), fitness center, 2 swimming pools, paddle courts, spa, sports medicine clinics, and an interactive sports museum. Mallorca has a Mediterranean climate all year round and a beautiful beach.
Nadal tried to open another tennis academy in Boca Raton, Florida but could not get the necessary approvals from the city to proceed.
In addition to Nadal's uncle and long-time coach Toni Nadal, the team at the Academy consists of coaches and other professionals that have accompanied Rafa during his sporting career.
Nadal's Other Business Interests
In 2016, Nadal opened a Spanish restaurant TATEL inside the Ritz-Carlton South Beach.  His partners in the project included basketball player Pau Gasol and Enrique Iglesias.
Nadal also owns a real estate in Madrid, Spain.  His properties included a 19th- century building there.
Rafael Nadal Foundation's mission is based upon the belief that every child and youth should have access to equal opportunities now and in the future. Through projects in Spain and India, the foundation works with children to make the most of their abilities, empowering them and fostering values such as self-improvement, respect, and effort.
Ana Maria Parera, Nadal's mother, is the President of the foundation. Sebastian Nadal, Nadal's father is one of the trustees.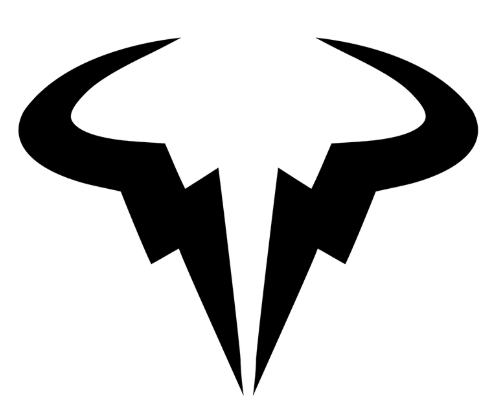 Bull Logo
Not surprisingly, Nadal has a logo is a stylized version of a bull. Nadal wears shirts, jackets, shoes (bull logo on the right shoe and "RAFA" on the left shoe) and hats with the bull logo. The logo wonderfully captures the hustling, never-give-up player that Nadal is, especially on clay courts.